Home > Food Processing > High Quality And Large Capacity Biscuit Making Machine

High Quality And Large Capacity Biscuit Making Machine
March 27, 2023
1.Description Of Biscuit Making Machine
Biscuit Making Machinery is composed of biscuit forming machine, tunnel-type hot air circulation electric oven, fuel injection machine, turning machine, cooling line, biscuit finishing machine, biscuit sandwiching machine, packaging table, etc. Biscuit Making Machine adopts compact structure, high degree of automation, from feeding, three-stage pressing, forming, sugar screening, conveying, waste, and recycling.
All mechanical integration such as baking, fuel injection and cooling are completed automatically. Hot sale biscuit production line is novel in design, compact in structure, and highly automated. From feeding to calendering, forming, waste recycling, drying, oil spraying, and cooling, it can be completed in one go.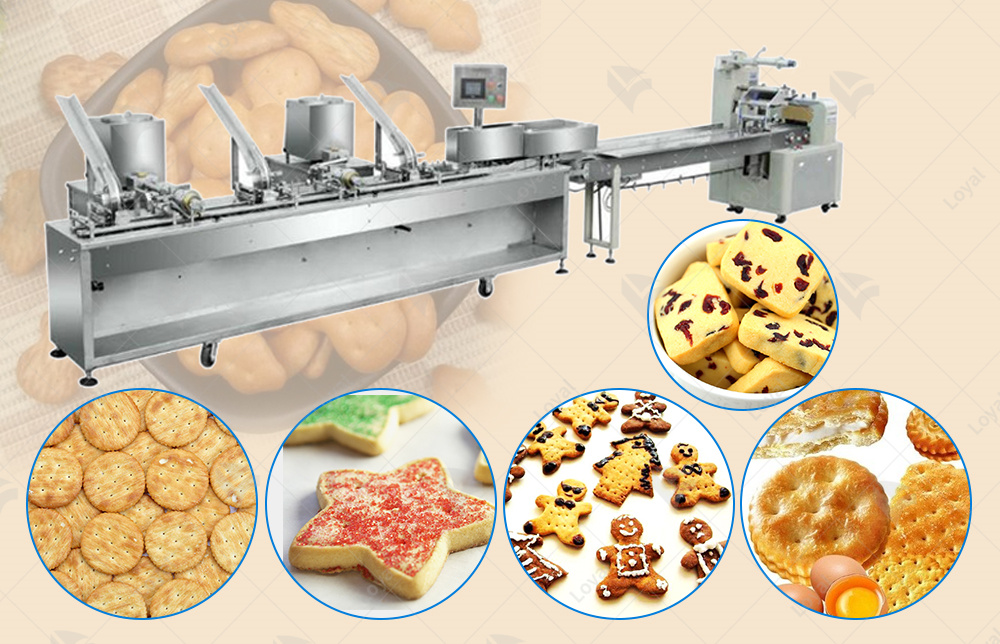 2.Specification Of Biscuit Making Machine
Model
LY225
LY280
LY400
LY600
LY800
Installed Capacity
28.5KW
55KW
110KW
220kw
(gas type 25kw)
customize
Heating Source
Electrical
Electrical
Electrical, Gas
Electrical,Gas
Electrical, Gas
Baking temperature
200-300ºC
200-300ºC
200-300ºC
200-300ºC
200-300ºC
Production capacity
50~60Kg/h
100kg/h
150-200Kg/h
400-500kg/h
600-900kg/h
Production line length
21000mm
30000mm
43000mm
60000mm
customize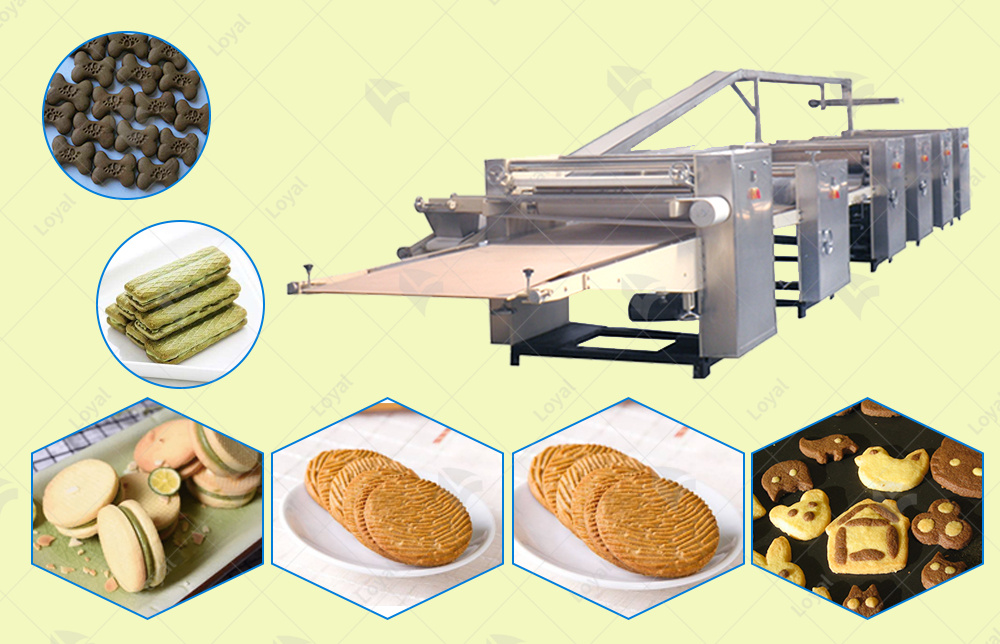 3.Production Process Of Biscuit Making Machine
Biscuit Forming Machine--Tunnel Hot Air Circulation Electric Oven--Oil Spraying Machine--Turning Machine--Cooling Line--Biscuit Finishing Machine--Biscuit Sandwiching Machine--Packaging Machine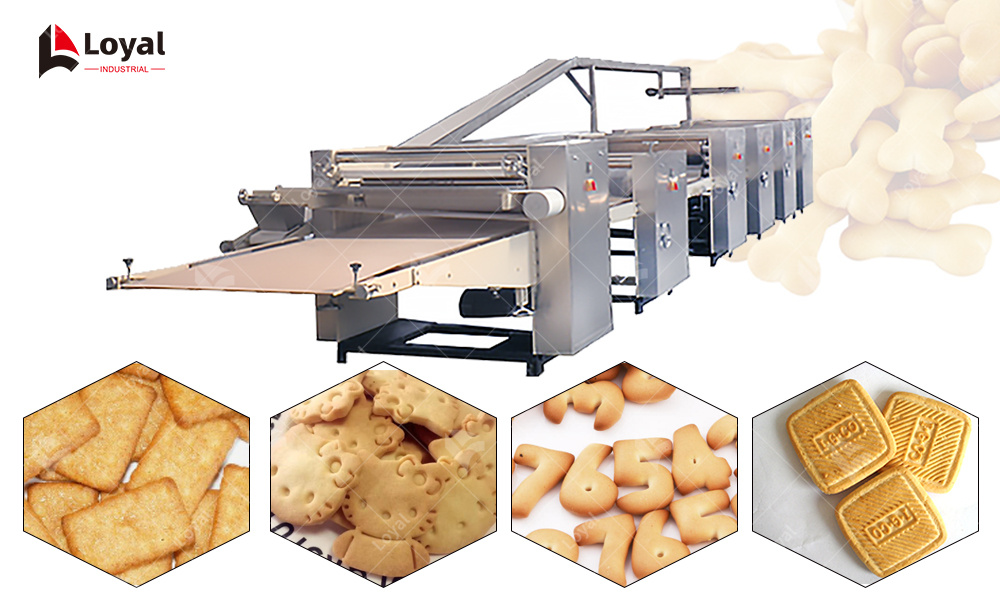 Flour, Auxiliary Materials--Dough Preparation--Tabletting-Rolling Forming-Baking--Oil Spraying Machine--Cooling-Finished Product
4.Features Of Biscuit Making Machine
.According to the needs of users, we can produce wafers of different sizes and different shades of patterns
.Made various shapes of wafers according to the needs of users, such as: spherical, square, bar, etc.
.The wafer can be transported to the chocolate coating machine through the cake divider to make chocolate wafers.
.Fully automatic production process.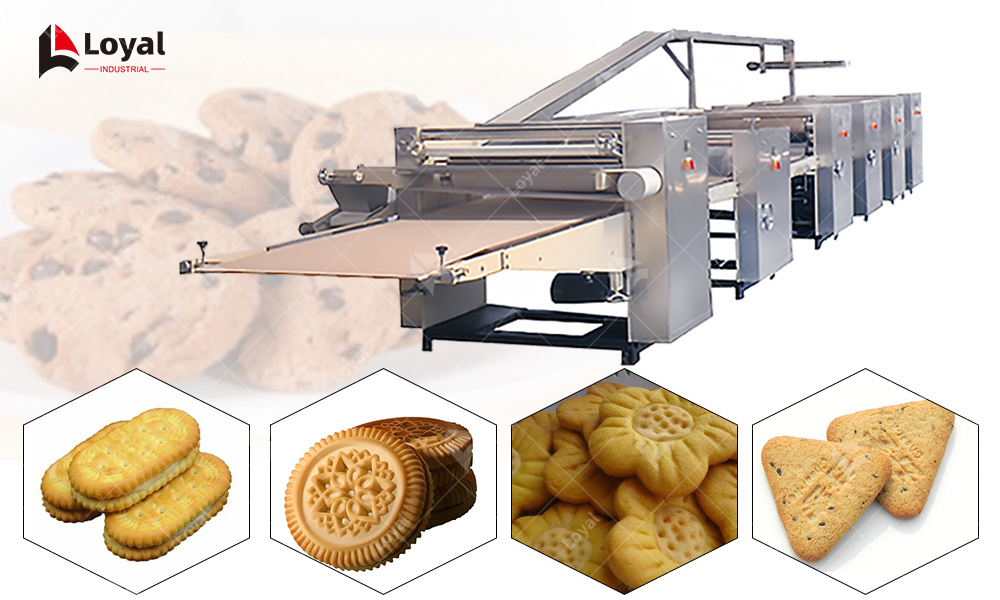 5.Application Of Biscuit Making Machine
Cream biscuit, layer biscuit, soda cracker, calcium biscuit, multi-vitamin biscuit, vegetable biscuit, etc.
Shandong Loyal Industrial Co.,Ltd.
Telephone+8613256674591
Email[email protected]
WhatsApp+8613256674591
WeChat13256674591
AddressC623, Jiahui Global Plaza, No. 548, Beiyuan Street, Tianqiao District, Jinan City, Shandong Province
Factory AddressADD -300m North of Zhangxia Industrial Park, Binhe Road, Zhangxia Town, Changqing District, Jinan