Home > Low Temperature Baking Dog Food Making Machine > Large Capacity Cold Press Dog Food Making Machine

Large Capacity Cold Press Dog Food Making Machine
In recent years, more and more pet owners regard nutritional ratio, ingredient composition, palatability, user reputation, and brand awareness as the main decision-making factors for purchasing pet food. Whether it is pet staple food or pet snacks, more than 50% of pet owners give priority to the composition and quality of pet food itself. In […]
Product Description
In recent years, more and more pet owners regard nutritional ratio, ingredient composition, palatability, user reputation, and brand awareness as the main decision-making factors for purchasing pet food. Whether it is pet staple food or pet snacks, more than 50% of pet owners give priority to the composition and quality of pet food itself.
In the research and development of new products, Shandong Loyal industrial Co., Ltd. continues to innovate in technology and flavor, and provides more personalized and precise exclusive customized food. Among them, the low-temperature baking process has become a hot trend in the near future. Shandong Loyal industrial's pet food process has been innovated and upgraded again, closely following the development trend of low-temperature baking, and constantly adapting to market demand.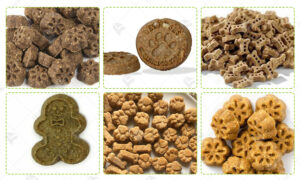 What is pet low temperature baked food?
The concept of low-temperature baking is to bake the raw materials in an oven at a low temperature of 90°C-120°C, and then use a dryer to dry and dehydrate. Low-temperature baked food for pets is mostly put the raw materials into an oven at about 80-100°C (different manufacturers have different production processes), and uses low-temperature baking to let the feed mature slowly. After baking, the granules are crisp and easy to digest, and the surface layer Dry and non-greasy, slow-matured grains without air chambers, no oil or flavoring on the surface, full-price pet food that maintains the original nutrition of the ingredients.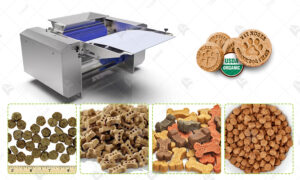 Flow chart of Cold pressed dog food machine:
Mixing system-----Cold pressing forming system-----Drying system ----Seasoning system----packaging system
Feature Of Cold pressed dog food machine:
High degree of automation
 Low Temperature Baking Dog Food Making Machine has a very high degree of automation, Large Capacity Cold Press Dog Food Making Machine can well meet the needs of customers and fully meet the needs of various enterprises.

 

Large output
Cold Pressed Dog Food machine can realize multiple batch processing, thus avoiding problems such as equipment downtime and long downtime due to different batches. The output of the equipment is large, thus ensuring the production efficiency and quality. At the same time, the production speed of the equipment is fast, and the output can be adjusted at any time according to the output needs of different users.
Low energy consumption
Low Temperature Baking Dog Food Making Machine can effectively reduce the utilization rate of energy and achieve the purpose of saving costs.

 

Sanitation and cleaning
Fresh Meat Cold Pressed Dog Food Machine Pet Food Machine adopts a new type of dust removal equipment, which can well avoid dust pollution to the surrounding environment and ensure environmental hygiene. In the process of processing, a certain amount of dust will be generated. If the dust is not effectively removed, the dust will cause harm to the health of the workers.
Easy to operate
Fresh Meat Cold Pressed Dog Food Machine Pet Food Machine

is easy to operate and easy to use, whether it is a small-scale enterprise or a large-scale enterprise, it can be easily used.
The above are the characteristics of the Low Temperature Baking Dog Food Making Machine. Cold pressed pet food has the advantages of large output, high efficiency and low energy consumption, and can meet the needs of various customers.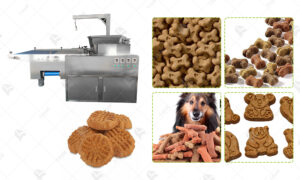 Shandong Loyal Industrial Co.,Ltd.

Telephone

+86 18905316466

Email

[email protected]

WhatsApp

+86 18963063440

WeChat

18905316466

Address

C623, Jiahui Global Plaza, No. 548, Beiyuan Street, Tianqiao District, Jinan City, Shandong Province

Factory Address

ADD -300m North of Zhangxia Industrial Park, Binhe Road, Zhangxia Town, Changqing District, Jinan