Home > Production Lines > Snack Food Extruder Machine > CE ISO 100-400kg/h Dough Forming Single Screw Extruder Machine Green Food Equipment

CE ISO 100-400kg/h Dough Forming Single Screw Extruder Machine Green Food Equipment
As a professional Single Screw Extruder Machine manufacturer, we have been in this field for 15 years. Our Single Screw Extruder Machine design good manufacturing process. Single Screw Extruder Machine can take Corn, potato grains and others as raw materials, to make pellet snacks,2D pellet, 3D pellet, and special dietary pasta.

LOYAL

FVWM-1

Shandong China

1 sets/Snack Food Extruder Machine

T/T,L/C,D/P

20 days /Snack Food Extruder Machine

Wooden case or wooden pellets depended on clients' require
Product Details
Brand Name:
LOYAL
Model Number:
FVWM-1
Place of Origin:
Shandong China
Min.Order Quantity:
1 sets/Snack Food Extruder Machine
Payment Terms:
T/T,L/C,D/P
Supply Ability:
20 days /Snack Food Extruder Machine
Packaging Details:
Wooden case or wooden pellets depended on clients' require
Voltage:
380V
Warranty:
1 YEAR
Weight:
850kg
Condition:
New
Capacity:
100-1000kg/h
Function:
Multifunctional
Automatic:
Snack Food Extruder Machine
Product Description
Single Screw Extruder Food Processing Machine was designed from single screw extruder suppliers for the food extruder machine at controlled temperatures of pre-gelatinized raw material and/or cooked doughs coming from a single screw extruder food processing machine, using interchangeable dies and a suitable cutting system. a wide range of pellet snacks products for sales, such as pellet snacks,2D pellet, 3D pellet, and special dietary pasta, is obtained by varying single screw extruder food processing conditions, raw materials recipt and replacing dies.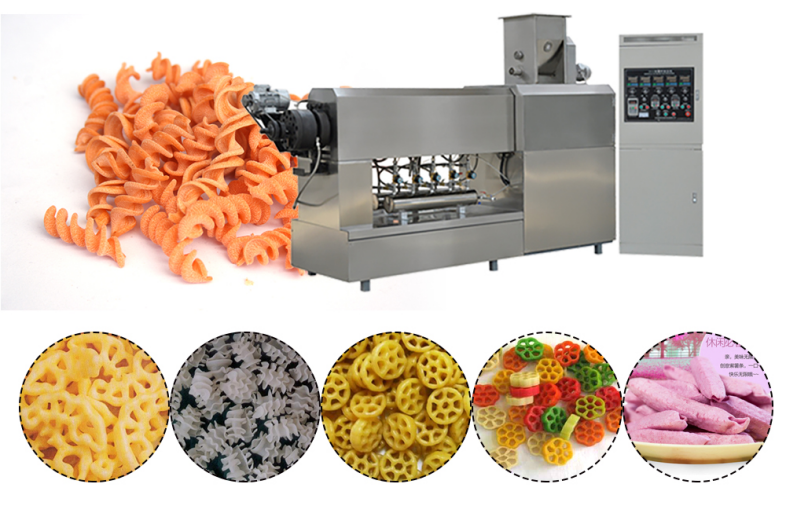 PRODUCT PARAMETERS OF SINGLE SCREW EXTRUDER MACHINE
| | |
| --- | --- |
| Applicable Industries: | Foood Manufacturing Plant, Farms, Home Use, Retail, Food & Beverage Shops |
| Type: | single screw extruder food processing |
| Weight: | 6000 kg |
| Certificate: | CE,SGS,ISO |
| Application: | pellet snacks,2D pellet, 3D pellet, and special dietary pasta |
| Capactity: | 150kg/h 250kg/h 500kg/h, |
| Dimension(L*W*H): | 18x2x4m |
THE WORKING PRINCIPLE OF A SINGLE SCREW EXTRUDER
All raw materials requiring cooking are processed in the extrusion-cooking step, followed by the shaping step of the extruder machine process, which can be either any other system capable of giving a correct shape to the hot dough before the drying.For example , Extruders are used to shape the pellets after cooking, to make die cut products or to extrude sheets or ribbons to be shaped and cut at distance from the die. single screw extruder food processing complete with cutting group.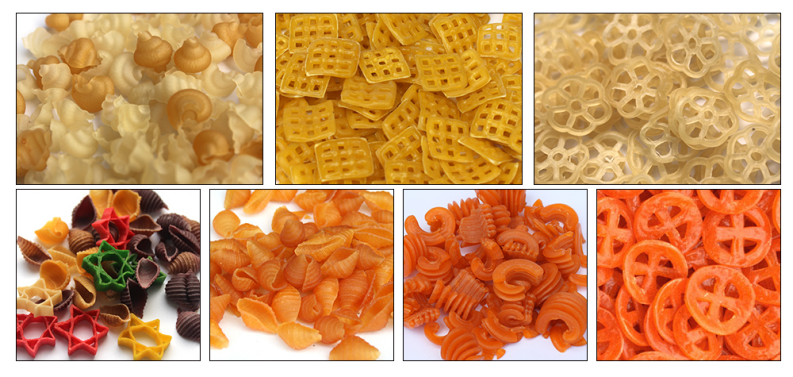 DETAIL OF AUTOMATIC SINGLE SCREW EXTRUDER MACHINE LINE
THE DESCREPTION OF A SINGLE SCREW EXTRUDER
Single Screw Extruder Food Processing Machine can process automatically and continuously a great variety of flours and cereal/potato starches, both mixed and in pure state. single screw extruder machine manufacturer also can choose equipped with dosers for solid and liquid ingredients, high speed pre-mixer, mixing tank, extrusion group composed of motor with variable speed, gear box and thrust bearing group. Forced feeding screw, modular type cooking screw with interchangeable shear locks, segmented barrel with independent thermo regulation.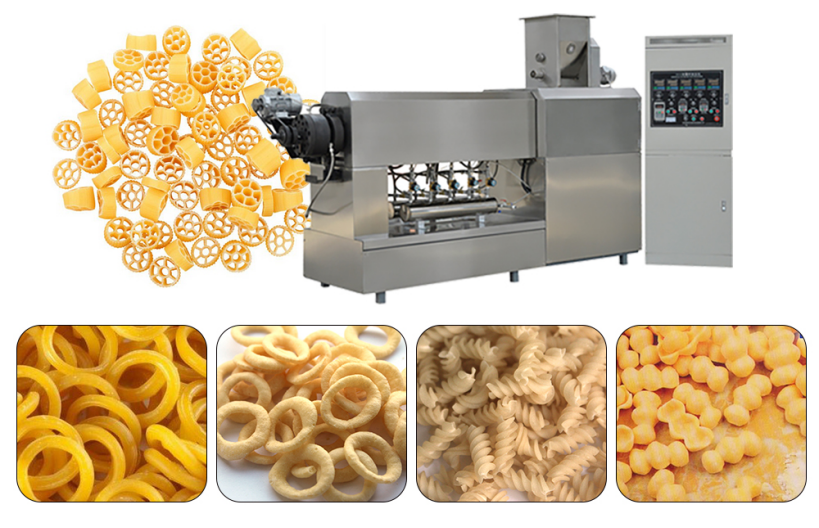 THE DETAILS OF SINGLE SCREW EXTRUDER
| | |
| --- | --- |
| Performance: | The main motor, feeding motor, and rotary cutting motor are all stepless frequency conversion speed control, simple operation |
| Electrical components: | Domestic |
| Motor: | Lijiu brand |
| Frame: | Sprayed carbon steel frame (beautiful, rust-proof, more durable |
| Outer skin: | Feeder, barrel cover, rotary cutting cover, and mixing shaft are all made of 304 stainless steel |
| Gear box: | The box bearing is made in harbin, and the gear is made of high-strength alloy nitrided steel. |
| Gearbox cooling: | Forced cooling system, filter system |
| Screw: | The diameter of the screw is 100mm. It is made of 38crmoarl alloy steel |
|  Barrel: | The barrel is made of special wear-resistant steel for round barrels, the outer layer is 45# steel, the barrel is cooled by water channels, electric heating, and the die body has a water circulation device. |
| Temperature control: | Independent automatic temperature control in 4 zones |
| Cooling control: | 4 zones independent automatic cooling control |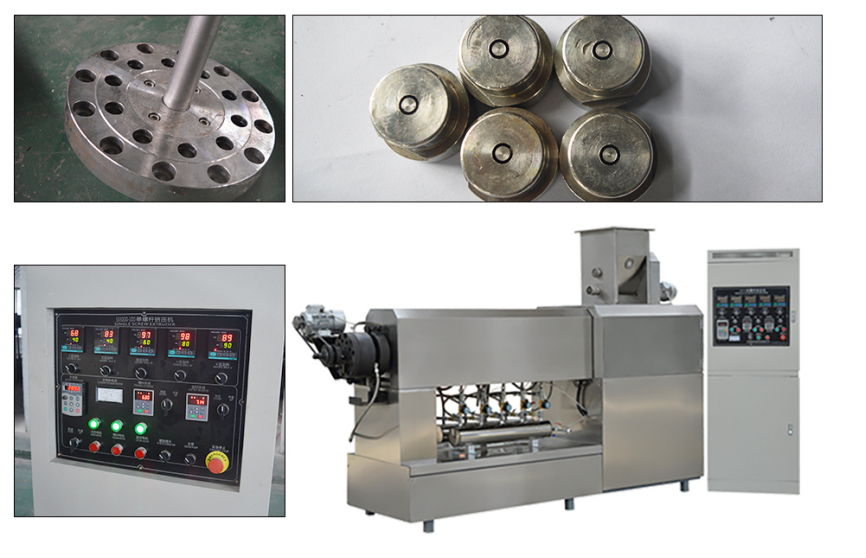 TECHNICAL PARAMETERS OF SINGLE SCREW EXTRUDER MACHINE
DIFFERENT MODEL OF SINGLE SCREW EXTRUDER 
Model
Installed Power
Power Consumption
Output
Size (L*W*H)
LY 100
55KW
30KW
100kg/h
3200x1500x1650mm
Applied snacks pellet food Products for sale:pellet snacks,2D pellet, 3D pellet, and special dietary pasta
THE DIFFERENCE BETWEEN TWIN SCREW EXTRUDER AND SINGLE SCREW EXTRUDER
SINGLE SCREW EXTRUDER VS TWIN SCREW EXTRUDER
1
Capacity: Single screw is suitable for starch extrusion cooking but without puffing. The material stays in the food extruder machine for a long time; the twin-screw has good mixing and cooking ability, the material is short in the extruder, and is suitable for powder processing.
2
processing capacity and energy consumption aspects: twin-screw extruder production, extrusion speed, unit output energy consumption is low, and single screw rod difference.
3
Pellets become ready-to-eat snacks once they have been expanded in frying process or baking process.
4
Snack pellets can be made with a wide variety of grains powder– corn starch, wheat starch, rice starch, tapioca starch– or potatoes starch and other vegetables powdder. They can also incorporate aromas and colors in their recipes.
5
Operational aspects: Double screw manipulation easy, process control simple, Single screw operation is relatively complex, process control requirements are high.
ADVANTAGES OF SINGLE SCREW EXTRUDER STRUCTURE:
The main advantages of the pellet snack technology from food processing machinery manufacturers
By virtue of its superior performance, single screw extruder has been widely used over the years. It can be used for processing a variety of pellet products, such as pasta, 2d &d pellet, potato chips, corn chips.
Advantages of pellet extruder machine. Designed by advanced technology, it has good extruding function to ensure stable and high speed extrusion.
Well defined shapes compared to directly expanded products
Wide choice of raw materials: Possibly all starches containing raw materials can be utilized.
Large choice of shaping systems: From the most classical die-cut products to the sheeted ones, the double and the multilayer ones

Shandong Loyal Industrial Co.,Ltd.

Telephone

+8613256674591

Email

[email protected]

WhatsApp

+8613256674591

WeChat

13256674591

Address

C623, Jiahui Global Plaza, No. 548, Beiyuan Street, Tianqiao District, Jinan City, Shandong Province

Factory Address

ADD -300m North of Zhangxia Industrial Park, Binhe Road, Zhangxia Town, Changqing District, Jinan