Home > Application > Tortellini

Tortellini
December 5, 2022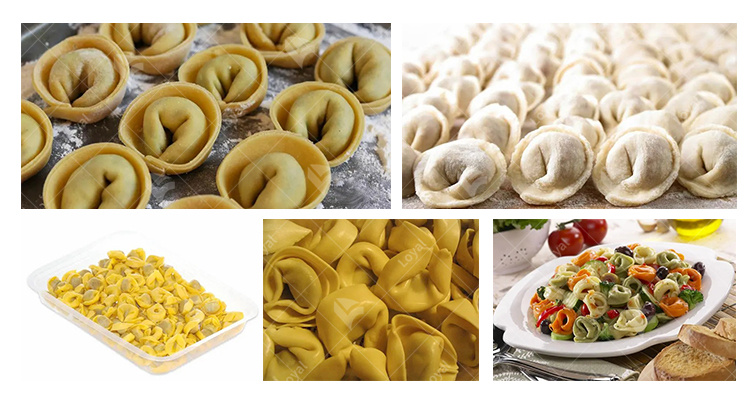 Tortellini are stuffed pasta's that is popular in Tuscany, Italy. Tortellini made from flour dough (fritters), can be filled with cheese, minced meat and vegetables. The most well-known type of tortellini is from Bologna and called tortelloni, which can be served as an antipasto or a light meal. Tortelloni have a thick casing and are traditionally larger than other types of tortellini. Tortelloni are usually served with melted butter, however, in some regions this is considered to be decadence and it is acceptable to eat tortellini simply boiled in salted water.
Macaroni is a well-known food around the world. It is popular in Western countries and among Chinese young people as well. After years of study and research, now there has been a great breakthrough on macaroni production line. which can be used for daily life, hotels, companies and so on. Customers will always be amazed by the quality and service of our macaroni production line. Have a look at it!
A Macaroni Production Line is a new innovation in the food industry which allows for the great production of Macaroni. The machine can produce around 100 lbs of Macaroni per hour with minimal human assistance.For pre-cooked macaroni and noodles products in boil-in-bag, in the frozen food industry. This production line can cook macaroni and noodles with plastic packaging, non-stop. It can produce material for frozen instant food.
Shandong Loyal Industrial Co.,Ltd.
Telephone+86 18905316466
Emailinfo@loyalfoodmachine.com
WhatsApp+86 18905316466
WeChat18905316466
AddressC623, Jiahui Global Plaza, No. 548, Beiyuan Street, Tianqiao District, Jinan City, Shandong Province
Factory AddressADD -300m North of Zhangxia Industrial Park, Binhe Road, Zhangxia Town, Changqing District, Jinan