Home > Production Lines > Wafer Biscuit Production Line > Wafer Making Machine

Wafer Making Machine
As a professional automatic wafer production line manufacturer, the wafer machines manufactured by our company are highly automated. Puffed snacks use corn flour, wheat flour, sugar and other raw materials to make crunchy and delicious snacks. Our company provides customers full set service: cost accounting, automatic cheese wafer production line design, wafer recipes, machine installation and debugging, […]

Loyal

Shandong, China

1 set

L/C,D/P,T/T

30days /Wafer Making Machine

Wooden case or wooden pellets depended on clients' requirement
Product Details
| | | | | | |
| --- | --- | --- | --- | --- | --- |
| Brand Name: | Loyal | Place of Origin: | Shandong, China | Min.Order Quantity: | 1 set |
| Payment Terms: | L/C,D/P,T/T | Supply Ability: | 30days /Wafer Making Machine | Packaging Details: | Wooden case or wooden pellets depended on clients' requirement |
Product Description
As a professional automatic wafer production line manufacturer, the wafer machines manufactured by our company are highly automated. Puffed snacks use corn flour, wheat flour, sugar and other raw materials to make crunchy and delicious snacks. Our company provides customers full set service: cost accounting, automatic cheese wafer production line design, wafer recipes, machine installation and debugging, design wafer molds according to customer requirements. We are confident to help you build a wafer factory.
The wafer making machine uses a door type sheet cooling machine, which has the characteristics of aesthetics, increased number of cooling sheets, convenient access for staff, and the addition of a vertical freezer and refrigeration system to better improve the temperature, humidity of wafer biscuits, improving quality and taste of wafer bisuits, kind of standard type of wafering equipment. The wafer production line is suitable for small and medium-sized enterprises, independent vendors, and new developers who have certain requirements for production. Investors can also choose according to their own sales and production requirements.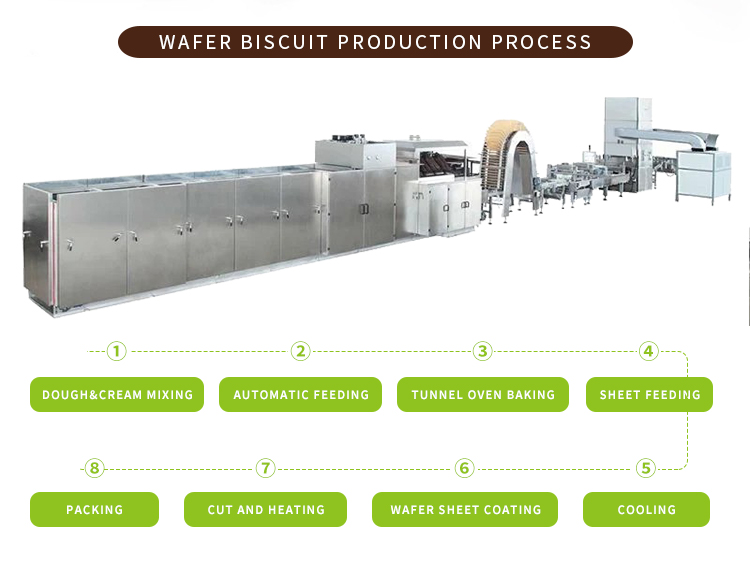 LIST OF COMPLETE WAFER BISCUITS LINE
LIST OF COMPLETE WAFER BISCUITS LINE
NO
Name
Dimension

(L×W×H):mm

Power

KW

QTY
1
LY75 Plates Baking Oven
14730×2000×2400
18.3
1
2
Sheet Receiver
1723×1150×820
0.18
1
3
Cooling Tower
2600×1050×2430
0.55
1
4
Sheet Picking Machine
2200 ×1060×840
0.18
1
5
Cream Spreading Machine (One Color)
2485×1200×1730
2.92
1
6
Vertical Cooling Cabinet
3700×1200×2612
18.83
1
7
Conveyor
2200×1050×980
0.18
1
8
Cutting And Laminating Machine
1545×2100×1100
0.75
1
9
Batter Mixer
1860×900×1600
5.5
1
10
Cream Mixer
1700×800×1600
5.05
1
11
Smash Machine
690×610×1250
3.0
1
12
Total
55.44
11
WHATS THE FEATURES AND CHARACTERISTICS OF WAFER BISCUITS MAKING MACHINE?
FEATURES AND CHARACTERISTICS OF WAFER BISCUITS MAKING MACHINE
1
The baking oven has 39 moulds, the mould frame is nodular cast iron, the grilling plate is heat-resistant cast iron, the standard baking pan specification is 470*325 mm, and the maximum is 500*350 mm; the power transmission mechanism and the walking wheel are nationally patented; PID automatic temperature control, Wafer film uniform color.
2
Batter mixer is all stainless steel, dynamic and static ring blade batter mixer, in 3 minutes, 25 kg of flour can be beaten into batter; electrical design using IP55 waterproof design, batter mixer can be quickly rinsed with water.
3
Arch type cold film machine is all stainless steel, independent motor drive.
4
Cream coating machine: Frame is a stainless steel tank structure, the motor cable and pneumatic components are sealed in the tank slot, waterproof and dustproof; the coating head is a combination structure, and the assembly and disassembly and cleaning are convenient; the stacking mechanism is a rotary plug-in structure. The layer is not controlled by the thickness of the cream layer and the number of lamination layers. The smooth stainless steel laminating roll is particularly easy to clean quickly and does not have a sanitary corner; the pressing mechanism is a double-rolled cake.
5
The freezer is of stainless steel structure, 304 stainless steel parts in contact with the wafer cake, the cooler is external, the inlet temperature of the freezer is 5°C, and the relative humidity of the freezer is 55%.
6
The cutting machine is a blade type cutting machine with a standard cutting speed of up to 8.
IS EATING WAFERS GOOD FOR HEALTH?
According to MayoClinic, eating too much fat, especially saturated fat, can lead to unhealthy weight gain and heart disease. Because the wafers are so low in calories and fat, they make a good snack, especially if you're trying to cut calories or lose weight. The fact that they contain almost no fat is a big plus.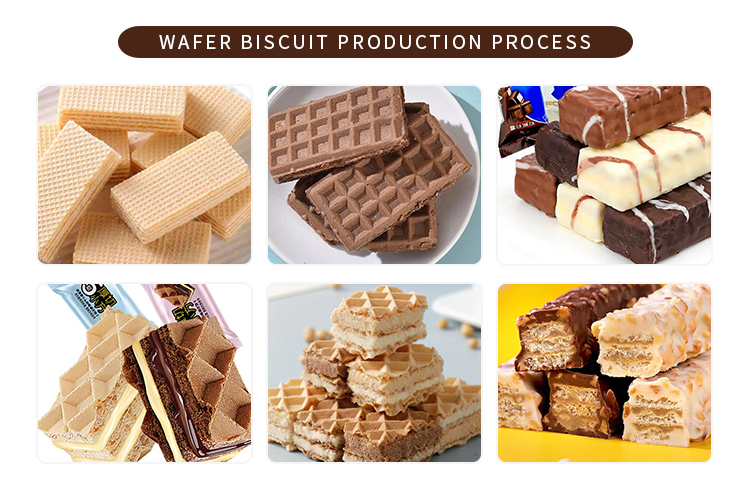 FUNCTION OF GAS OVEN
This is very important equipment in the wafer production line. The wafer baking system uses Gas for heating of the baking plates.
FUNCTION OF GAS OVEN
1
The function of the baking oven is fully automatic from spreading batter on the plates through until baked wafer sheets come out of the oven.
2
Baking is even and produces good quality wafer sheets for next procedure.
3
In PLC there is PID controller which is used for controlling the temperature of the baking plates automatically .
4
The collection of required signal of PID is supplied by infrared sensor .
5
The oven status display and the data reset are supplied by a touch screen, all motor have the

starting current protection and thermal overload protection.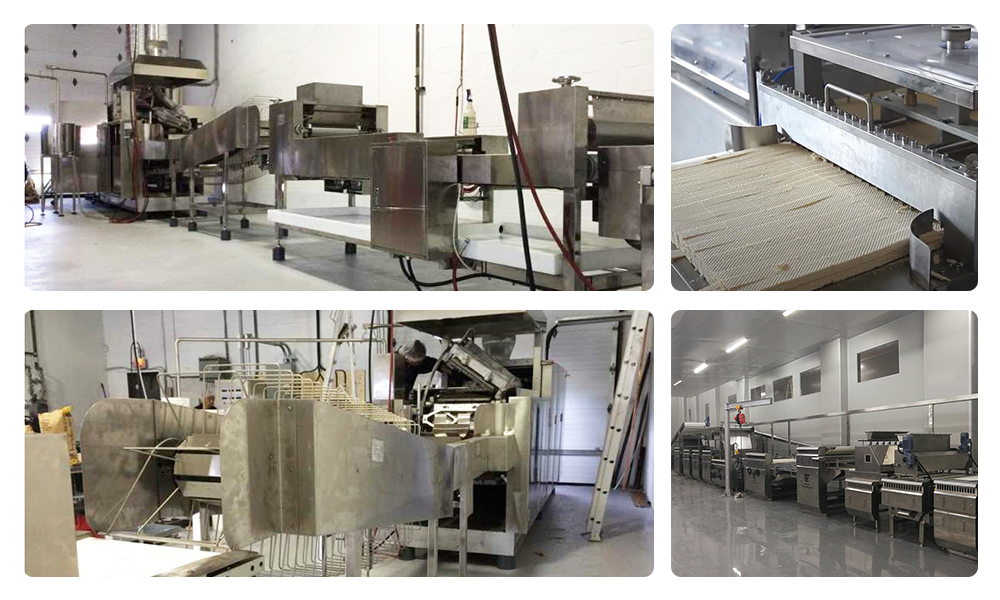 WHICH MARKET DID THE LOYAL WAFER BISCUITS MAKING MACHINE SOLD?
LOYAL's share of wafer biscuits making machine exported to international markets has steadily increased. According to the export goods trade data in 2021, Loyal's export market share in the international market is 86.5%, of which the wafer biscuits making machine export market share is 20.8%, the export market share in the Americas is 30.2%, and the export market share in Asia is 35.5%. If you are interested in a meat dryer, please contact us today, we offer you the most cost-effective turnkey solution.
Customer Case of Wafer Making Machine At 2022
1
 300KG/H Industrial Wafer Making Machine Shipping To Liberia
2
150KG/H Wafer Making Machine For Sale In Indonesia
3
Senegal 125KG/H Industrial Wafer Making Machine
4
100KG/H Industrial Automatic Wafer Making Machine For Sale In Uzbekistan
5
200KG/H Industrial Wafer Making Machine For Sale In Senegal
6
300KG/H Industrial Automatic Wafer Making Machine For Sale In Nigeria
7
50KG/H Industrial Automatic Wafer Making Machine Sold In Russia

Shandong Loyal Industrial Co.,Ltd.

Telephone

+86 18905316466

Email

[email protected]

WhatsApp

+86 18963063440

WeChat

18905316466

Address

C623, Jiahui Global Plaza, No. 548, Beiyuan Street, Tianqiao District, Jinan City, Shandong Province

Factory Address

ADD -300m North of Zhangxia Industrial Park, Binhe Road, Zhangxia Town, Changqing District, Jinan