Home > Food Processing > Professional Textured Soya Protein Making Machine With Custom-Design Service

Professional Textured Soya Protein Making Machine With Custom-Design Service
May 10, 2023
Introduction of Textured Soya Protein Making Machine:
Textured Soya Protein is a food or food ingredient with higher protein,produced by processing with protein-containing substances as the main raw material. It is generally a dry substance, and raw materials are mostly used in soybean processing products, such as defatted soybean flour, protein concentrate, isolated protein, gluten powder, etc. Shapes are granular, columnar, block, etc. Advanced tissue protein is produced with isolated protein, which has high protein content and is easily absorbed. Because it is a vegetable protein, it has no veterinary drug residues and is safer. It is widely used. It is used in some meat products. High-grade Textured Soya Protein protein is filamentous Textured Soya Protein protein, which is obvious after rehydration and feels like shredded meat, and the cost is lower compared to meat. Textured Soya Protein can replace chicken, isolated protein added to meat products, not only can improve the protein content of meat products, but also can absorb excess fat, so that it is not greasy and more meat, to achieve the purpose of economic benefits. The protein content of Textured Soya Protein can only indicate high nutrition, but does not indicate full nutrition. For meat substitutes, it should also contain amino acids similar to those of meat.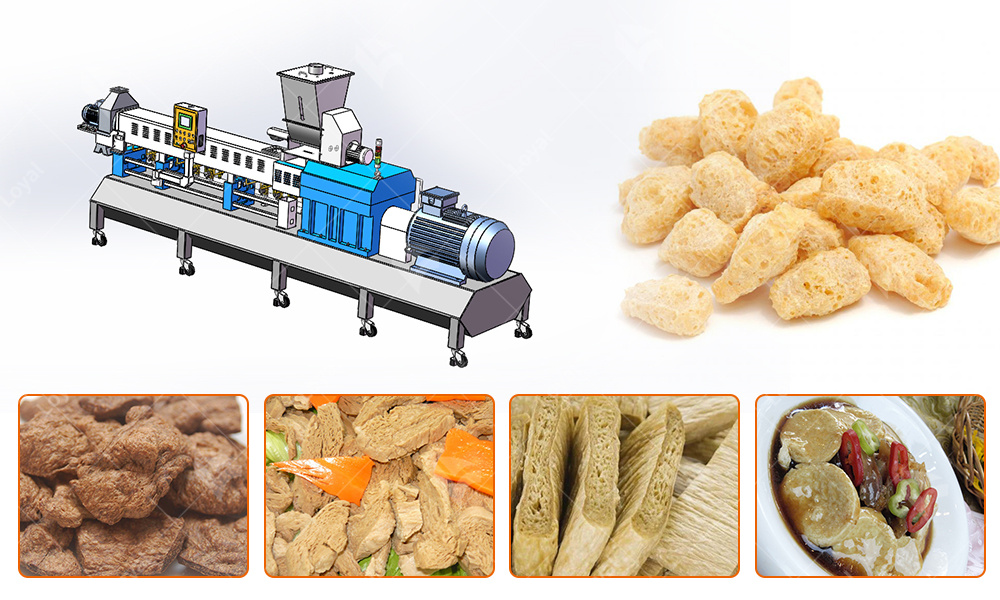 The whole Textured Soya Protein production line can automatically complete the production from mixing, extruding, air conveyor, multi-layer oven,cooling conveyor to the finished product.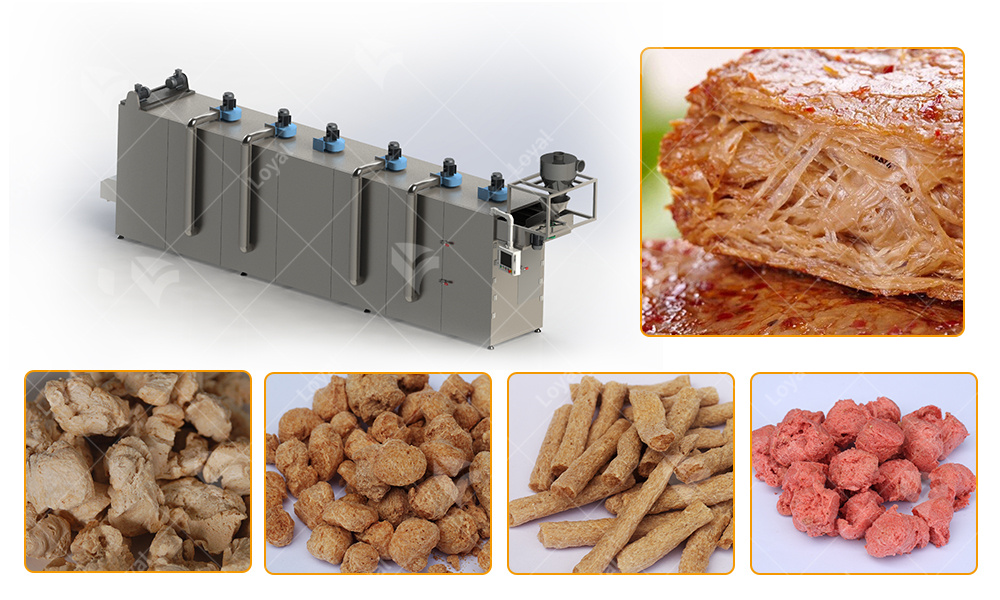 Details of the production line
Production capacity
180-1000kg/h
Electricity supply
Customised according to your local electricity situation.
Machine details
1. Stainless steel,201, 304, 316, on request.

2. Electrical components can be ABB, Delta, Fuji, Siemens,famous brands.

Certificates
CE,GOST,TUV,BV,SGS
Raw material
Defatted soybean meal
Applications
Meat products industry,fast food production,and all kinds of vegetarian snacks and food.
Flow chart of a commercial Textured Soya Protein processing line:
Mixing Machine - Screw Conveyor - Twin Screw Extruder - Air Conveyor - Multi-layer Oven- Cooling Machine

Flow chart:
Our engineers can design the layout diagram of the Textured Soya Protein according to the customer's factory size.

Equipment used for Textured Soya Protein oduction Line:
Mixing Machine - Screw Conveyor - Twin Screw Extruder - Air Conveyor - Multi-layer Oven - Cooling Machine
Features of the Textured Soya Protein Production Line:
1.Productivity: automated system for controlled and stable production on a continuous basis, easy and quick product change, automatic start-up, simple cleaning and maintenance procedures.
2.Economical: low investment, quick results.
3.Environmental protection: moderate output and energy saving.
4.Intelligent control system: PLC control of production to ensure optimum process parameters for each recipe.
5.Automatic lubrication system can reduce power consumption and prolong service life.
Parameters of the Textured Soya Protein Production Line:
Model
Installed Power

(KW)

Power Consumption

(kw)

Capacity

(kg/h)

Dimension

(m)

LY65 Textured Soya Protein Production Line
100
80
180-220
19000*1200*1800mm

LY70 Textured Soya Protein Production Line
109
93
250-300
20000*1200*2200mm

LY85 Textured Soya Protein Production Line
156
125
300-500
21000*1200*2200mm
Shandong Loyal Industrial Co.,Ltd.
Telephone+86 18905316466
Emailinfo@loyalfoodmachine.com
WhatsApp+86 18905316466
WeChat18905316466
AddressC623, Jiahui Global Plaza, No. 548, Beiyuan Street, Tianqiao District, Jinan City, Shandong Province
Factory AddressADD -300m North of Zhangxia Industrial Park, Binhe Road, Zhangxia Town, Changqing District, Jinan