Home > Production Lines > Biscuit Production Line > Vegetable Cookies Sandwich Biscuit Machine 220V380V With Siemens Motor

Vegetable Cookies Sandwich Biscuit Machine 220V380V With Siemens Motor
As a professional fully automatic sandwich biscuit machine manufacturer ,our biscuit making machine design good manufacturing process. Biscuit machinery can take wheat flour, butter, sugar, powder, milk powder, loosening agent, egg and others as raw materials to make the different type biscuit for sales.

Loyal

HDM-6P HDM-8P HDM-16P HDM-32P

China

1 sets/Biscuit Production Line

L/C,T/T,Western Union

20days /Biscuit Production Line

Wooden case or wooden pellets depended on clients' requirement
Product Details
| | | | | | |
| --- | --- | --- | --- | --- | --- |
| Brand Name: | Loyal | Model Number: | HDM-6P HDM-8P HDM-16P HDM-32P | Place of Origin: | China |
| Min.Order Quantity: | 1 sets/Biscuit Production Line | Payment Terms: | L/C,T/T,Western Union | Supply Ability: | 20days /Biscuit Production Line |
| Packaging Details: | Wooden case or wooden pellets depended on clients' requirement | Type: | Tray Dryer | Dimension(L*W*H): | 3.8*2.5*2.2m |
| Certification: | CE, CCC, ISO | After-sales Service Provided: | Online support, Video technical support, Free spare parts | After Warranty Service: | Video technical support, Online support |
| Showroom Location: | Viet Nam, Philippines, Thailand | Heating source: | Hot Air | Function: | Biscuit Production Line |
Product Description
A sandwich cookie, also known as a sandwich biscuit, is a type of cookie made from two thin cookies with a filling between them. Many types of fillings are used, such as cream, ganache, buttercream, chocolate, cream cheese, jam, peanut butter, lemon curd, or ice cream etc.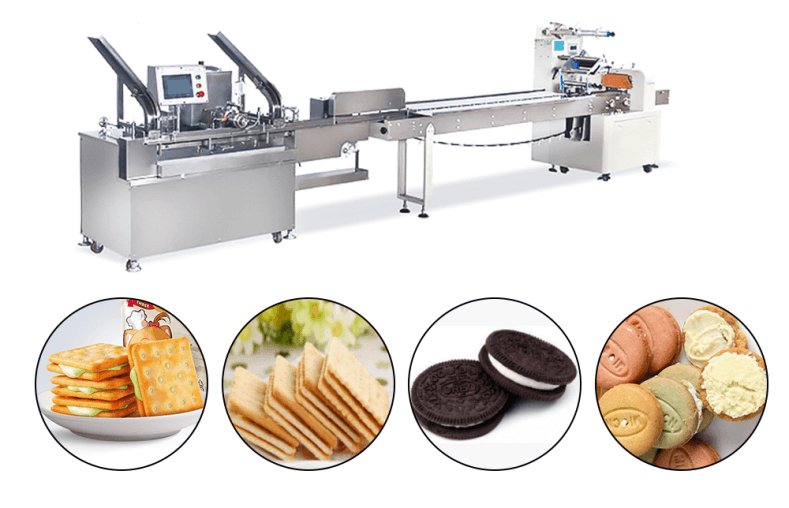 All working procedures are from flour mixing, molding, waste recycling, baking to cooling and can be full automatic in sandwich biscuit machine. Hundreds of moulds and dozens of technology recipes make it to produce all kinds of popular biscuits, such as cream biscuits, sandwich biscuits, soda cracker, vegetable biscuits, from loyal manufacturer. At the same time, our heating methods are electrical and gas heating, customers can choose different methods according to their needs. We are professional manufactrer for automatic biscuit sandwiching machine with Siemens motor. Our sandwiching machine adopted 304 stainless steel. Fully automatic, easy to clean. High production efficiency and beautiful appearance. It can be connected with the packaging machine, to make filling and  packaging  one time automaitc,  and whole line only need one worker operation, saving labor, high efficiency. SAMPLES MADE BY BISCUIT SANDWICHING MACHINE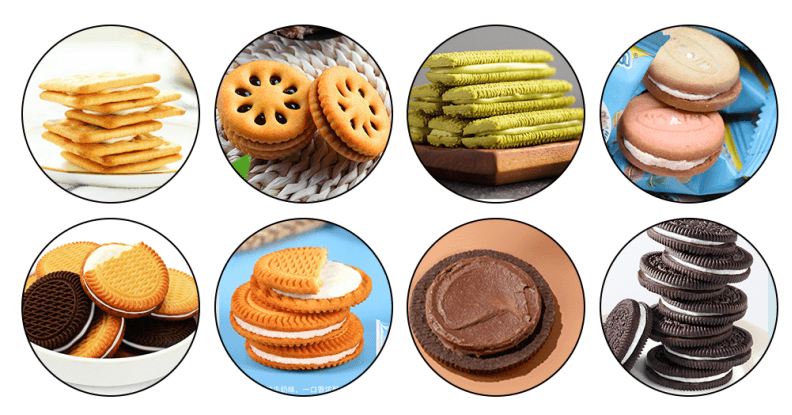 HOW TO MAKE CORE PART OF INSIDE THE SANDWICHING BISCUIT ?
| | |
| --- | --- |
| Item No. | Step |
| S1. | Heating and stirring the sandwiched raw materials, and at the same time adding powdered sugar to the raw materials to make them stir to a paste; |
| S2. | Refill the flavors of different flavors in the sandwich material according to the choice of flavor; |
| S3. | Add vegetable juice of the corresponding color according to the flavor to adjust the color;Further preferably, the raw materials for the sandwich include butter, honey, syrup and fresh milk. |
Further preferably, the raw materials for the sandwich include butter, honey, syrup and fresh milk. For tha capacity, we have: 50-60Kg/h, 100kg/h, 150-200Kg/h, 400-500kg/h, 600-900kg/h. It's suitable for different selected factories. Our biscuit production line including: Biscuit sandwiching machine with flow packing machine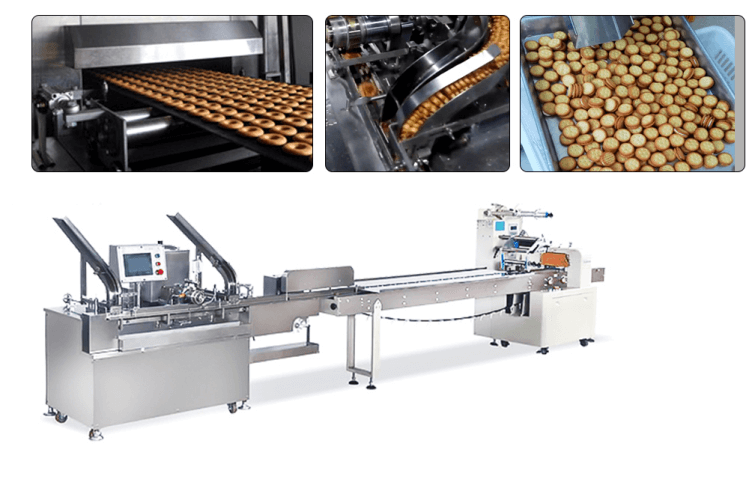 BISCUIT SANDWICHING MACHINE FOR SALES We provide--- the most reasonable, economical and stable design biscuit sandwiching machine. Saving money and time for the client. SANDWICHING BISCUIT PRODUCTION LINE FOR A BISCUIT FACTORY: Flour Mixer- Roll Cut Biscuit Form Machine-Tunnel Oven-Oil Sprayer Net Belt Cooling Conveyor -Electrical Control Box -Automatic 2+1 Biscuit Sandwiching Machine--Packing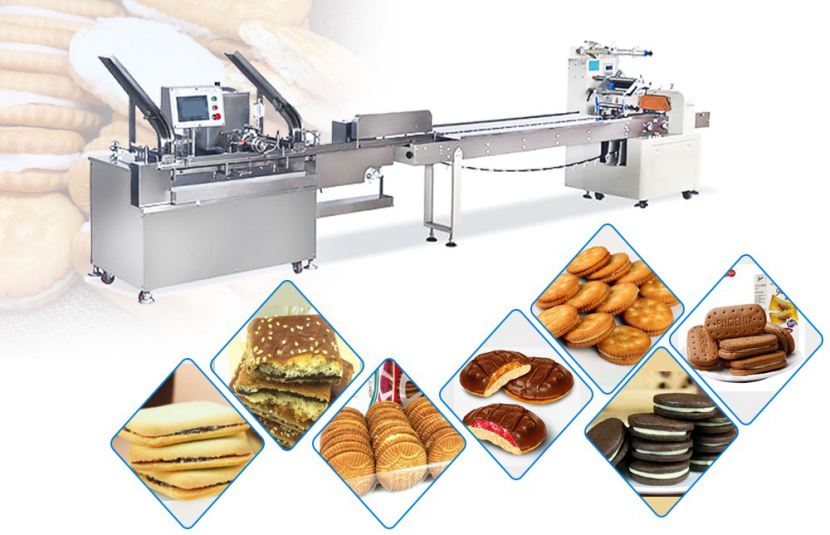 WHAT CAN YOU MAKE WITH THE SANDWICHING BISCUIT PRODUCTION LINE ? BISCUIT SANDWICH MACHINE PARAMETER:
1+2  Biscuit Sandwich Machine Details
Package Type
1 Layer*1
1 Layer*2
1 Layer*3
Package Speed
33-300pcs/Min
33-300pcs/Min
33-300pcs/Min
Package Type
2 Layer*1
2 Layer*2
2 Layer*3
Package Speed
33-300pcs/Min
33-130pcs/Min
33-70pcs/Min
Machine Size:
6100*1000*1600mm
Mainly Power
7kw
Weight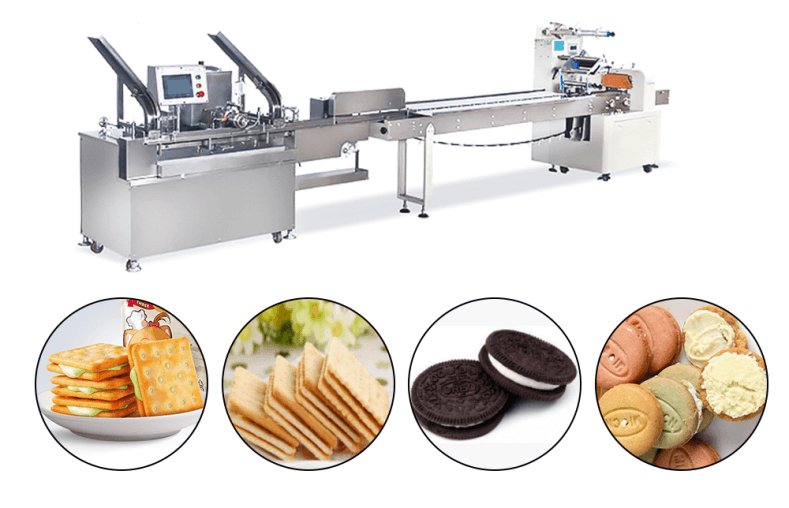 BISCUIT SANDWICHING MACHINE DESIGN:
| | |
| --- | --- |
| Item No. | Advantage Of  Biscuit Sandwiching Machine |
| 1 | Simple Operation, Good Stability, High Continuous Productivity And Other Characteristics, It Is An Essential Machine For The Production Of Sandwich Biscuits. |
| 2 | Stainless Steel 304 Material |
| 3 | Motor And Electrical Brands Can Be Customized According To Customer Requirements; |
| 4 | There Are Two Types Of Biscuit Sandwiches: 2+1 Type And 3+2 Type For Customers To Choose; |
| 5 | Have international certification: CE, ISO9001, SGS etc. |
| 6 | Fully Automatic, saving labor, high efficiency |
| 7 | No noise, no pollution, energy saving. |
LIST OF SANDWICHING BISCUIT RAW MATERIAL
| | |
| --- | --- |
| Raw Material For Biscuit : | Wheat Flour, Butter, Sugar, Powder, Milk Powder, Loosening Agent,Egg |
| Filled Core Material: | Cream, Jam,Butter, Chocolate Etc. |
| Finished Biscuit Type: |  Soft Biscuit, Hard Biscuit, Vegetable Cookies, Butter Cookies, Sandwich Cookies, Soda Cookies, Animal Cookies,Crispy Biscuits, Tough Biscuits, Multi-vitamin biscuit, Etc. |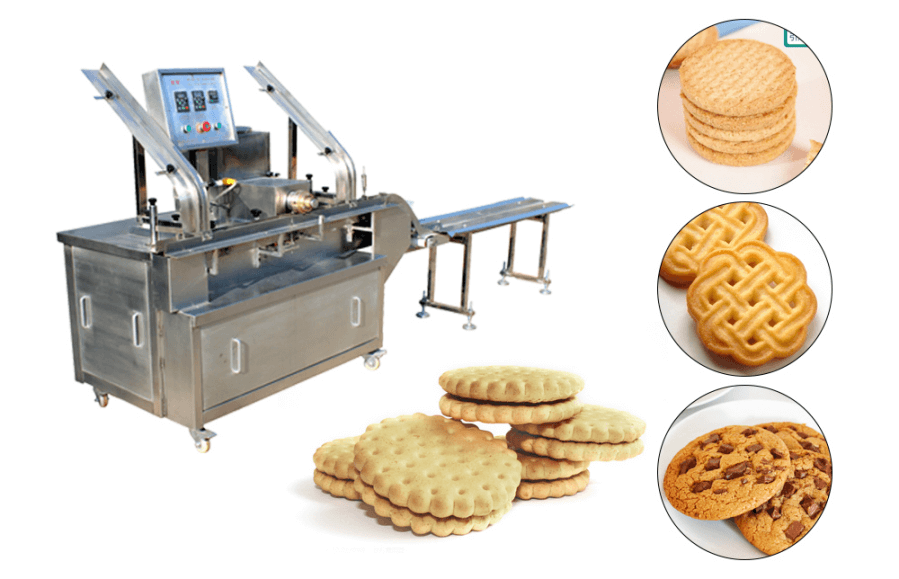 Shandong Loyal Industrial Co.,Ltd.

Telephone

+8613256674591

Email

[email protected]

WhatsApp

+8613256674591

WeChat

13256674591

Address

C623, Jiahui Global Plaza, No. 548, Beiyuan Street, Tianqiao District, Jinan City, Shandong Province

Factory Address

ADD -300m North of Zhangxia Industrial Park, Binhe Road, Zhangxia Town, Changqing District, Jinan